Rocky aur Rani Kii Prem Kahani – Review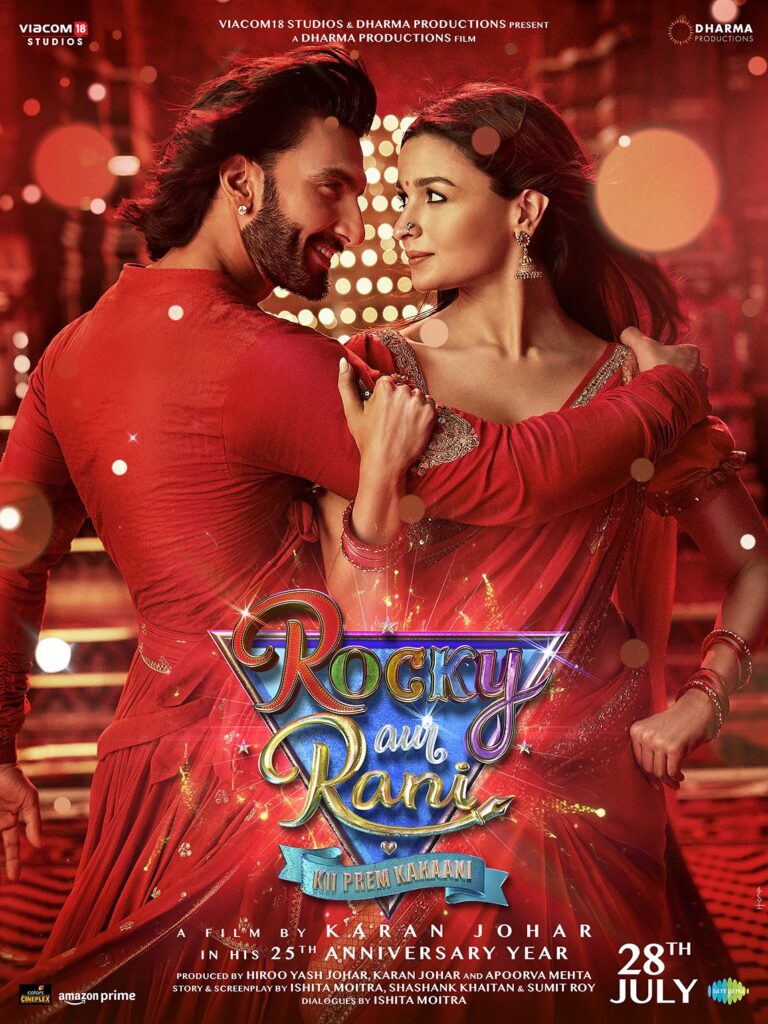 I am still surprised at the title I have just now typed above. This movie was not on my radar. I had seen the trailer once as a part of the previews for some other movie but that was it. I had neither any intention nor motivation to go watch this movie. I had written Karan Johar off as an out-of-touch Boomer who didn't understand how love and relationships have evolved since the 90s ever since his "Ae Dil Hai Mushkil". It did not just stop there either, I felt it was a problem across most of the Romantic Drama directors of the 90s. Aditya Chopra's "Befikre" was an incomprehensible mess. Yash Chopra's last "Jab Tak Hai Jaan" appealed only to me for the legendary director's nostalgia and legacy. I had found directors like Luv Ranjan were telling a lot more relatable modern-day love stories and "Tu Jhoothi Main Makkar" had firmly cemented him as one of the smartest working directors for comedies in the industry right now. So, "Rocky aur Rani" was never a part of my plan. The only reason I ended up watching it was that I was at the theatre for a showing of "Psycho-Pass: Providence" and the show timings were close enough. And boy was I surprised!
"Rocky aur Rani kii Prem Kahani" is good! It is a legitimately funny, heartfelt and competently made film. Is it the most original idea on the block? No. But it knows that and revels in it. It follows Rocky Randhawa (played brilliantly and earnestly by Ranveer Singh), a brash, kitschy Gurgaon third-generation entrepreneur whose entire family lives under the thumb of his grandmother (played by Jaya Bachchan, but more on that later) and Rani Chatterjee (Alia Bhatt bringing in her usual, dependable star quality), an intellectual news reporter, unafraid to take a stand. As movies would have you believe, opposites attract, but both of them are wary of their relationships as their families are way too different. So their solution is to live at each other's houses for three months as a trial. The movie drags a bit in the first half, with the second act not taking off till after the interval and you can feel the first half being padded with song and dance to bring you to an interesting interval freeze frame. However, the movie manages to keep you entertained during the slumps, carried brilliantly on the broad (and very oiled) shoulders of Ranveer Singh. Singh fits the role like a glove, living the loud, garish Rocky Randhawa, stumbling through his lines in what Dharma Production thinks bad English sounds like, with style.
There are a few side plots too, about the family members of the two leads, but nothing you have not seen before. It essentially follows the same tropes as Rekha's 1980 classic "Khoobsurat", a martinet grandmother, a suppressed artist, a suffocating household, basically standard fare. But it does enough new things with the characters to manage to be its own thing and Johar deserves credit for that. The script and dialogues written by Ishita Moitra, are smart and funny, and enough zany antics happen on screen to keep you engaged. Even when the movie goes into monologues about gender roles and patriarchy, it never feels forced or preachy. You are with the characters at every step of the way sympathizing with their plight.
Another side note has to be made about Jaya Bachchan. She chews up the entire frame in every scene she is in. Her performance rivals Meryl Streep in "Devil Wears Prada" or Michelle Yeoh in "Crazy Rich Asians". Apart from one scene where the editing fails her, as Rocky goes on a tirade against her way of life, she is brilliant in every scene she is in. Her face-off with Alia Bhatt over laddoos reminds you of the Mah Jong scene in "Crazy Rich Asians" in terms of the tone and the narrative purpose it serves in the story. It was nice to see Dharmendra back on the screen as well but he does not have much to do in the film. Coming to the supporting cast, there are no real weak links there. Everyone carries out their role in the script pretty well and you are never pulled out of the movie because of lazy acting.
Is it a perfect film? No. The second act kicks off way too late. The songs feel a bit forced and could have been done without. None are particularly memorable anyway. Too many intertextual references to old Karan Johar movies for my taste (Jaya Bachchan goes "Keh diya an, bas keh diya" set to the "Kabhi Khushi Kabhi Gham" theme at one point in the movie). Karan Johar still doesn't know how to start a good movie without a "Kids bring together a broken family" trope. But all of these are minor nitpicks. Even though I had gone into the movie nearly hostile, it won me over and at no point did I feel I would rather be anywhere else. That is an incredibly difficult thing to do but the movie manages to do it almost effortlessly.
Coming to the other aspects of the movie, the production design is great but that is the baseline expectation from a Dharma film anyway at this point. The set pieces are all perfectly colour-coordinated. Delhi and Gurgaon are shot prettily enough. It is interesting to see how many big-budget Rom Coms are being set unapologetically in Delhi now. This is the second A-list Rom-Com shot on location this year alone. There is a nice one that is a couple of minutes long, very unlike Karan Johar's usual frantic, a cut every three seconds, style of shooting in the comedic scenes. The score is nothing memorable, neither are the songs. Feels like Pritam phoned this one in.
In conclusion, ignore the recency bias of the last paragraph and go watch this movie. It is a great time at the movies. And most importantly, it is Karan Johar coming back into his usual form after a few duds in the last few years. However, with this movie, he once again proves that he still has what it takes to tell a fun, entertaining family drama. For a career spanning 25 years now (Kuch Kuch Hota Hai came out in 1998), it is no mean feat!